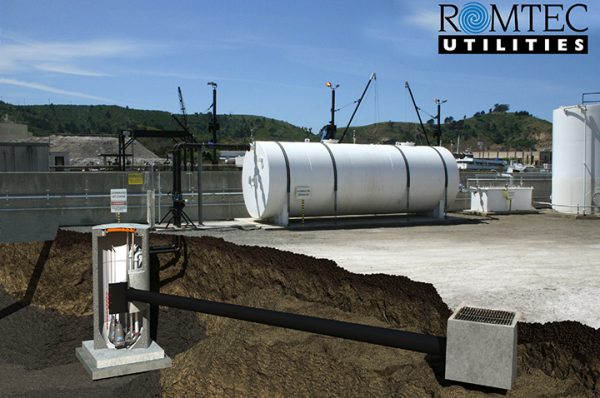 Romtec Utilities, Inc. began operation in 2000 in Roseburg, Oregon. The US economic conditions at that time fostered the growth of a booming housing market, and Romtec Utilities did a lot of business working with developers and public agencies who needed packaged lift stations. Romtec Utilities distinguished itself by offering quality designs, fast lead times, and an ability to get projects approved and installed quickly.
In the wake of the 2008 Financial Crisis, the market changed and so did Romtec Utilities. Romtec Utilities made a rigorous evaluation of its product offering to become more cost competitive. We also placed more emphasis on working with industrial clients with a broad range of applications.
In the following years, Romtec Utilities underwent dramatic changes that have ultimately made us a better company. We expanded our interests to include more stormwater, more wastewater, and more industrial water applications. We improved our vendor relationships to provide our customers with more products and capabilities at lower prices. We developed an efficient and precise documentation process to foster fast and clear communications, and we strengthened our field services and repair capabilities.
The story and history of Romtec Utilities is that of a company who specializes in the design and supply of the best, most practical, most affordable, and most sophisticated site specific pumping systems available worldwide. We have completed hundreds of projects across the United States and have supplied packages for international installations. Contact us for assistance. We love to talk about pumping systems of every type, shape, and size!
Working with Romtec Utilities
Romtec Utilities designs, manufactures, supplies, and installs pump stations for any type of water, including:
You get the complete package pump station from design to start-up for any pumping scenario. Romtec Utilities works with all types of clients.
Romtec Utilities helps pump station owners and municipalities:
Develop Complete Plans
Establish & Meet Design Standards
Procure Complete Pump Stations within Budget
Receive Start-Up, Testing, & Warranty for Your System
Residential & Commercial Developers
Romtec Utilities works with Developers to provide:
The Pump Station that You Can Afford
Free Up-Front Pump Station Design & Engineering
Support and Documentation to Get Approval
Cost Savings and a Fast Timeline
Contractors save money on Pump Stations with Romtec Utilities with:
Value Engineering for Pump Station Specifications
A Detailed Scope of the Supply and Services for Each Party
Easy Installation with Free On-Site Services
Civil Engineers working with Romtec Utilities get:
Complete Pump Station Plan Sets
Detailed Systems Specifications Added to Your Bid Package
Accurate Cost Estimates for the Completed Pump Station