Romtec Utilities engineers, manufactures, supplies, and installs pumping systems for a wide range of water conveyance applications. Our products often start with preliminary design phases, and through the engineering process, Romtec Utilities designs pumping systems with all require structural, mechanical, electrical, and communications systems required. Once the design is completed and approved by the customer and their reviewing engineers, the system is manufactured. In this phase, Romtec Utilities provides tremendous value to our customers through our Quality Assurance process. Romtec Utilities works to ensure that each system we sell is of the highest quality anywhere, and our QA work is a big part of what makes that possible.
Our pumping systems integrate many different components into a functional station. During manufacturing, many of the components are shipped to Romtec Utilities for prefabrication, and each stage of the system manufacturing has a QA process to evaluate the componentry that is delivered. Our standards are very high for our customers. Before any fabrication work begins, each part, component, or structure is reviewed to be approved or rejected. Over many years, our vendor relationships have grown to the point that the majority of these reviews are approved, but shipping, retooling, and irregularities can sometimes cause parts to be rejected.
The first stage is typically the structural components. In this stage, we utilize experienced production personnel, project managers, and structural engineers to review these components. If the structural components aren't shipped to our production facility to meet tighter schedules, Romtec Utilities sends production crews to the manufacturing sites to QA these components. The next stage includes the mechanical systems, such as the pumps. This QA process verifies the condition of the equipment, and it also verifies aspects of the system design. These aspects can include impeller trim, cable length, elbow fit, and other items related to the mechanical aspects of the system. The final stage involves utilizing our in-house electrical engineers to complete QA evaluations on the control panel and electrical system components, including programming and communications.
We refer to these processes as stages of the project because these stages reflect the typical procedure for delivery and installation of the completed system. In spite of this, much of our prefabrication and QA work overlaps and runs concurrent to other stages. This keeps all aspects of the project moving to keep our lead times as fast as possible. On the rare occasions that parts are rejected, customers are typically notified and given the opportunity to evaluated our QA notes and the potential consequences of rejecting the component. Romtec Utilities then carries out the process of getting a new component and assessing charges as needed.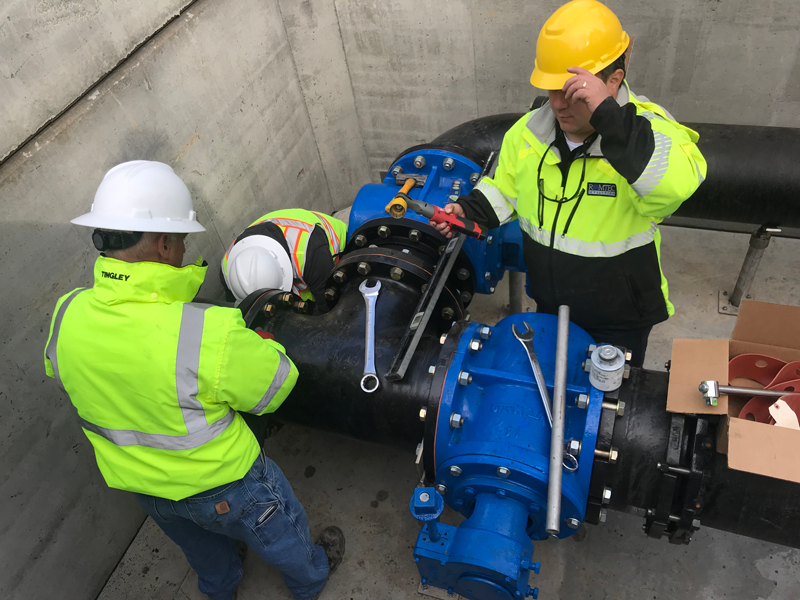 Our QA processes utilize expertise and vendor relationships to provide our customers the very best pump stations available. Our high standards for quality during manufacturing also allow Romtec Utilities to offer a full warranty on our complete pumping systems. This is just one small part of the work our team completes on every pumping system we produce, and it is something that is always changing and evolving. To learn more about our standards and QA process, contact our sales staff to see how your next pumping system project can be the best yet!