Have you faced pesky control and communication issues due to weather elements or had trouble maintaining the electrical controls of your pump station?
The answer to these problems is simple.
The Motor Control Center (MCC) should be housed in a control building to ensure safe and secure long-term operations.
MCC's are a critical piece of infrastructure that house the electrical controls for a pump station in a central location. Access to an MCC is crucial to the maintenance and longevity of the control system along with protecting the controls from the elements.
Keep Your MCC Safe from the Elements
Industrial controls require shelter from the elements and an MCC is no exception. Rain is a major concern relative to controls and constructing them in an outdoor setting. Water intrusion into a control panel can lead to corrosion and operational failure with electrical components.
Too much sunshine can also be a bad thing. Sun can begin to bubble and wear down exterior coatings that are meant to protect the control panel enclosures.
In addition, direct sunlight can lead to high temperatures within the control panel or MCC that would create unreliable operation for its components. It is important to maintain an operational temperature in line with the recommended temperature from the manufacturer.
Maintaining the operational temperature of the electric controls can be done by including heating and cooling in the control building.
Happy Maintenance, Happy Life
Providing a shelter over the control panel or MCC also gives the maintenance staff shelter from the elements while interfacing with the controls.
This shelter creates a safe working environment as staff sometimes interact with MCC's where they are exposed to bare conductors and significant amounts of energy. Reducing the distraction and discomfort will allow a maintenance worker to proceed with confidence. This helps staff work efficiently and to quickly resolve issues if they arise.
MCC Buildings Should be Functional and Aesthetically Pleasing
When designing an MCC control building it is important to ensure that there are proper working clearance requirements and accessibility for the operations and maintenance staff.
Romtec Utilities is well suited to provide MCC style controls as well as a custom building to integrate the controls. Our business model allows us to design each building uniquely around the configuration of the controls and the standards/requirements of the end owner.
Romtec's custom design approach allows for exterior customization from both an architectural and overall aesthetic standpoint. We can also design the exterior of the structure to match other buildings in the area.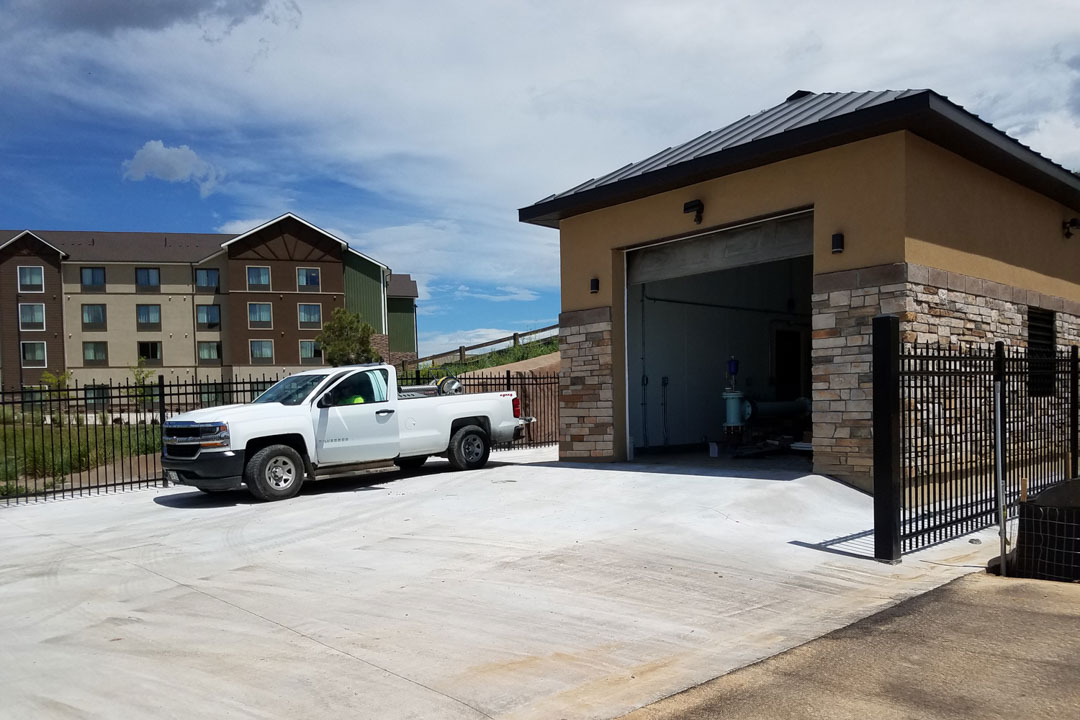 Motor Control Centers Require More Attention than a Typical Control Panel
MCC has a much larger footprint than a stand-alone control panel. Due to their inherent design centered around the power distribution, MCCs are comprised of many individual "buckets" that can span over a great distance.
This creates a large footprint for the MCC that would be easily housed in a control building vs an exterior cabinet. A MCC can easily be fully accessed inside of a control building compared to if it was housed in a cabinet where all the buckets may not be visible at once.
Our sister company, Romtec Inc., designs, supplies, and builds control buildings that house Motor Control Centers and are aesthetically pleasing. We work with them to design crossover projects like MCC Buildings to ensure our customer's needs are met.
So, if you're looking to avoid those annoying maintenance or weather problems affecting your MCC, housing it in a control building is the way to go.
To ensure that a complex MCC is easily maintained and operated it is important to make sure that they are properly protected from the elements and fully accessible. To learn more about housing a MCC in a control building reach out to Romtec Utilities sales staff at rusales@romtec.com